Austrian Airlines: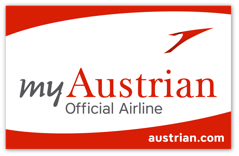 You can book your flights to Vienna at www.austrian.com and save 15% on all applicable fares! To do so, simply enter the following code in the eVoucher field on the Austrian homepage booking engine:
The booking has to take place from now until December 16th, 2019. It is only valid for flights to Vienna and return as of December 04th, 2019 until December 24th, 2019 (final date for return flight) on OS operated flights. Book your flights here!
To get from the airport to the city you can take a train, a taxi or a bus. Click here for more Information.
By Train:
A much more eco-friendly way to come to Vienna is Austrian Federal Railways (ÖBB)
ÖBB offers railway network to get you to Vienna. With the Sparschiene, you can travel from almost every city around Europe with a very reasonable price.
By Bus:
Eurolines
Flixbus also offers bus routes for longer distances