Brother Yusef has been described as a master solo guitarist, as well as a uniquely passionate vocalist. His performances are as raw, honest and real as the genre has ever aspired to be. Honed over thirty years, he calls his multifaceted style, fattback blues for it's a rich mix of Delta , Chicago and Texas blues alongside a hard driving Louisiana stomp. Fattback Blues combines "traditional" fingerpicking and slide guitar playing with the contemporary feel of urban blues, rock and funk. He uses his right hand thumb to beat out a percussive bass-line and shuffle, while the index finger plays rhythm and lead lines, creating a full band sound with a solo guitar.
Brother Yusef has gained worldwide recognition performing at various blues and music festivals, social dance events and concert performances both nationally and internationally. He takes his audience on a musical journey from a backwoods jook joint to the fiery emotions of the sanctified church.
Miss Mikey May and the Organ Grinders
Born with the Blues and paid her dues, Miss Mikey May is a powerful and soulful vocalist, a natural entertainer with backgrounds in theatre, cabaret, burlesque, and social dancing. Her mission is to serve up a wild ride to the roots of Blues, Jazz, and Gospel in a dancer-friendly package. In 2016 Mikey founded the Hammond-organ based swing and Blues project, The Organ Grinders. Armed with some of Prague's top Blues and Jazz musicians, expect some serious dancing with tributes to good ol' fashioned tunes, a few new ones, and an all around groove-it-or-lose-it good time!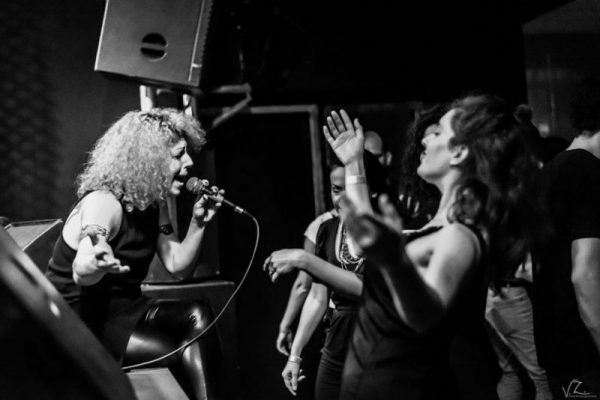 Stefano "Slidin' Wolf" Ronchi is an Italian blues guitar player and singer living in Berlin. His way of composing and arranging is grounded in old black folklore music from the 20's and 30's, from Delta Blues and Piedmont Blues, through old Spirituals, stomp and "swamp" sounds.
Passionate about slide guitar, he looks at the tradition with his personal, modern and respectful attitude. He is constantly touring around the World, playing in blues clubs, Festival, and blues dance events as solo artist or collaborating with other great musicians and bands, such as Tony Coleman, The Baseballs, Dan Nash, Marcos Coll, Marko Jovanovic, Micha Maass, The Lonesome Millionaires, Jessie Gordon, The Roaring Rag Beastie, and many more.
Herby Dunkel & Gerry Lülik (Vienna)